2016 Week 5-6 Victories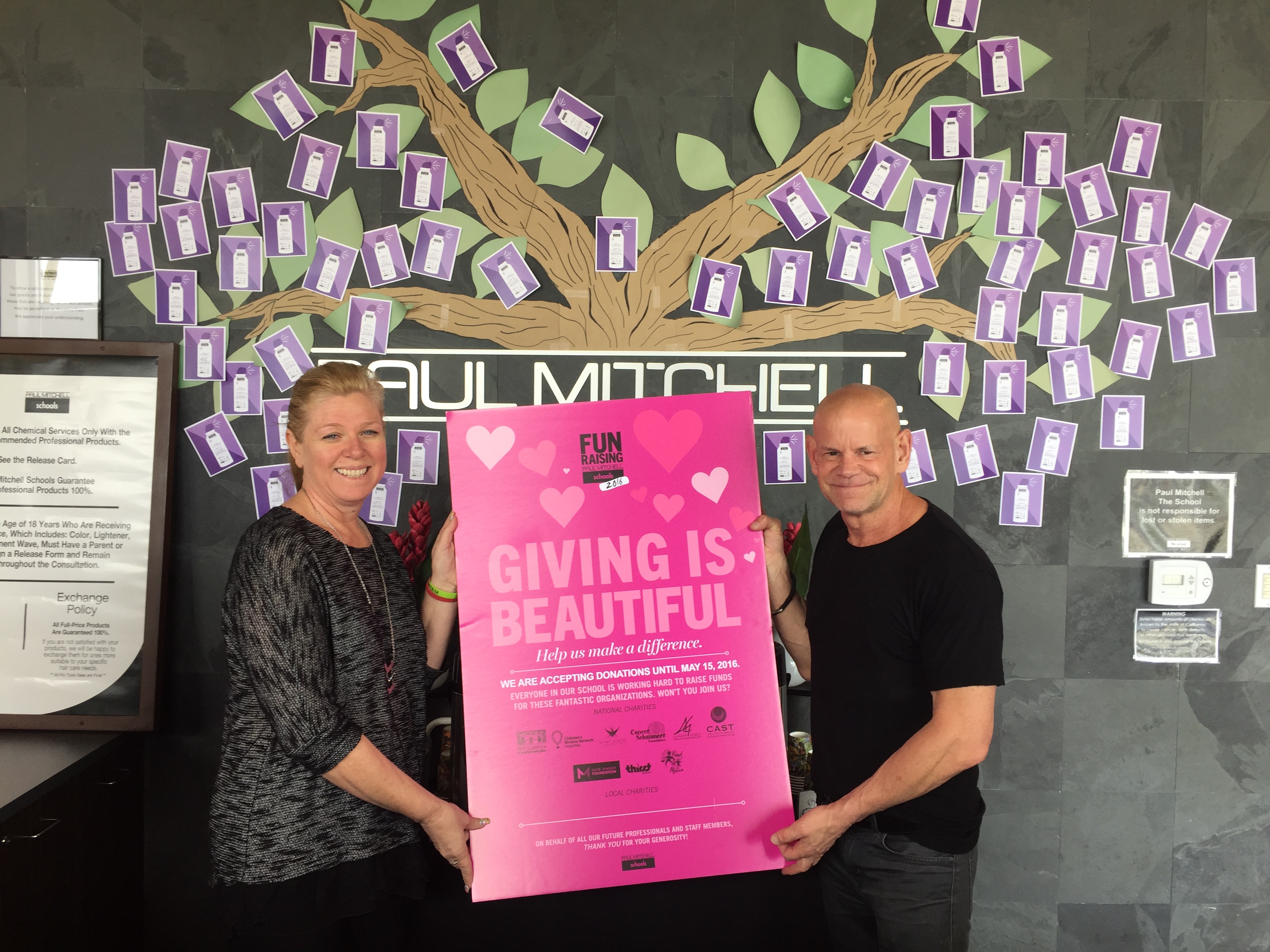 Hi Everyone!

Last week's big news was our Midway Fireburner. Our special guest, Robert Cromeans, joined me to announce the top 10 schools at the midway point. Congratulations to the top 10 and to every school for your hard work so far! We know the best is yet to come, so please keep sharing your victories, photos, and great ideas. Remember: If you're not in the top 10 right now, or you haven't reached your goal yet, IT'S NOT TOO LATE! This is the 13th year we've been doing this, and we know that, historically, more money is raised in second half than in the first. With a little less than four weeks left, this is the perfect time to get re-motivated and excited about what your school can do.

10. The Temple (Frederick): They're keeping it a secret for now!
9. Paul Mitchell The School Temecula: $16,969
8. Paul Mitchell The School Green Bay: $18,157
7. Paul Mitchell The School Fresno: $18,893
6. Paul Mitchell The School Fayetteville: Another secret!
5. Paul Mitchell The School Phoenix: $21,015
4. Paul Mitchell The School Las Vegas: $22,000
3. Paul Mitchell The School Tulsa: $25,580
2. Parisian Beauty Academy: A Paul Mitchell Partner School, $26,347
1. Paul Mitchell The School San Diego: $27,287

If you need some fresh ideas, listen to the Midway Fireburner and all the other fireburners again. They're on the Hub / FUNraising tab and the Paul Mitchell Schools YouTube channel. Grab your Idea Book, and keep reading these update eblasts for victories like the ones below. We also posted the Fireburners, launch video, and special video messages from our partners on the Paul Mitchell Schools YouTube channel, in the 2016 FUNraising Campaign playlist: http://bit.ly/1Lej1t7.

WEEK 5–6 VICTORIES
With 73 winners in the First 100 contest, we still have 27 spots left. If you're getting close, don't give up! We want to see YOU at the FUNraising Gala in Beverly Hills!

If you're looking for new ideas, try some of these from Paul Mitchell The School Las Vegas. They've raised $22,000 and earned their way to the midway top 10 with creative events like Twin Day, mashed potato bar, Colorful Shoe Day, Jeans Days, bake sales, and they even taped their team members to the wall, charging $1 per tape.

Paul Mitchell The School Normal has raised $9,570 with lots of fun events, including theme days, bake sales, an exciting ombre class with Advanced Academy educator Phil Wood, and a fabulous princess party, where Future Professionals pampered all the little princesses who entered their doors.
During their recent staff training, Paul Mitchell The School Temecula took 20 minutes for a ONE Event call-a-thon and raised $1,781. Let me repeat that – 20 minutes, $1,781! You can do it, too!

If you haven't had a ONE Event, plan one today. They really work!
Paul Mitchell The School Salt Lake City: $11,311
Paul Mitchell The School Tampa: $6,470
Paul Mitchell The School Esani: $1,400
Paul Mitchell The School Sherman Oaks: $900
Paul Mitchell The School Madison raised $100 with their Blow Out Boot Camp, and $298 in "Got Spare Change," when everyone brought in their spare change for a week. Every dollar counts!

Paul Mitchell The School Monroe has raised $3,000 so far. Fun events included a mani/pedi party for the Girl Scouts, green extensions for a local St. Patrick's Day Parade, and Easter egg coloring and an Easter egg hunt.
Paul Mitchell The School Esani has raised $10,150 toward their $30,000 goal. They've held a variety of classes, including Learning Leader Kinah's braidless sew-in weave class ($1,600), along with casual for a cause days ($1,500), ONE Event ($1,400), and bake sales, cookouts, spirit weeks, smoothie sales, and other fun events ($2,000). The school's Assistant Director got a gig to do head shots for Coca Cola's staff, with the company matching employee donations; they expect to raise at least $1,000. Their Sales Leader, Stephanie, recently launched custom T-shirt and cup sales, and she's willing to take orders from other Paul Mitchell Schools. Contact

This email address is being protected from spambots. You need JavaScript enabled to view it.

if interested.
Paul Mitchell The School Fayetteville (North Carolina) has raised $20,000 toward their $27,000 goal. They're very proud of their four First 100 winners!

Hair Expressions Rockville has raised about $3,600, and Hair Expressions Jessup has raised $4,200. Each school raised about $1,800 in the first few days of FUNraising with very successful yard sales. They also held food and snack sales and a topless car wash (where people paid extra to get the roof of their cars washed). Upcoming plans include a fashion show at Rockville, Princess and Mom Days at both schools, and a walkathon.

Paul Mitchell The School Fort Myers has raised $15,173 toward their $30,000 goal. They had "pie a teacher in the face" day, an ongoing penny war (they're collecting change in buckets dedicated to the various charities), and a "Back to Black" event, where for a small fee, future professionals and staff brought in their damaged black clothes to be dyed black again. Upcoming events include a Walk A Thon and small community festival, car washes, yard sales, bake sales, and a dinner at the school with guest speakers.

Paul Mitchell The School Dallas has raised $15,510. Their esthetics department did a fantastic fashion show. DryBar is doing a Look and Learn class for their Future Professionals and grads, and the school is reaching out to businesses for donations for their Silent Auction.
The three Vanguard Colleges have raised $20,401 so far and say they are "nowhere near finished!" They've held a tri-campus prom, several makeup and acrylic nail classes, a field day complete with food and games for donations, Yankee Candle fundraising, and much more!

Parisian Beauty Academy has raised $26,000 toward their $65,000 goal with classes, casual days, bake sales, fashion shows, family and friends days, Zumba classes, and more. In a friendly competition, one class raised $500 with their consignment shop. The whole school is getting ready for their fashion show (see their storyboards below), and they've already raised $12,000 from the show's Ad Journal.
TIP OF THE WEEK: Event Poster Templates

Are you taking advantage of the customizable 2016 FUNraising Event Poster Templates? You'll find them on the Hub, under the FUNraising tab / FUNraising Files, along with complete instructions for personalizing. Create beautiful branded posters for your Princess Parties, Car Washes, Pet Fashion Shows, Guest Artist events, and more. Designed by the brilliant creative team at John Paul Mitchell Systems, each template is available as a rewritable PDF. Download them today!

SEND IN YOUR VICTORIES!

Each week, we'll share more great victories and FUNraising ideas with the entire Paul Mitchell School network! Please send your updates and ideas to This email address is being protected from spambots. You need JavaScript enabled to view it..

The FUNraising updates are also posted on Plugged In and the FUNraising website, at www.paulmitchellschoolsfunraising.org/blog.

Check out more photos in our FUNraising photo album at http://bit.ly/22wv0dB.

Share the links and spread the news!

XOXO, Winn Claybaugh
Dean, Co-Founder of Paul Mitchell Schools